15 Best hotels in Barcelona
Barcelona has more than 500 hotels - here are some of the best
Barcelona is a great destination for leisure travels and at the same time it is a multinational business center, hosting many conferences, meetings, and business related activities. An ideal destination for a corporate travel, the unique city of Barcelona offers many possibilities for entertainment and incentive activities during the business trip. If you are scheduling a trip to Barcelona with your corporate group and are looking for accommodation in the city, we can help you booking the hotel. Barcelona has a wide range of hotels - from small boutique hotels to some of the country's best corporate hotels with many meeting rooms.
''There are more than 500 hotels in Barcelona - below you will find 10 of the very best''
Hotel H10 Metropolitan 4*
If you're the type of traveler that wants to experience a city within its pulsing heart, while at the same time enjoy luxurious amenities and services, Hotel Metropolitan is the hotel for you. The central location, its stylish interior design, the roof top swimming pool and gardens, go beyond your dreams. The hotel has received multiple awards for its high standards!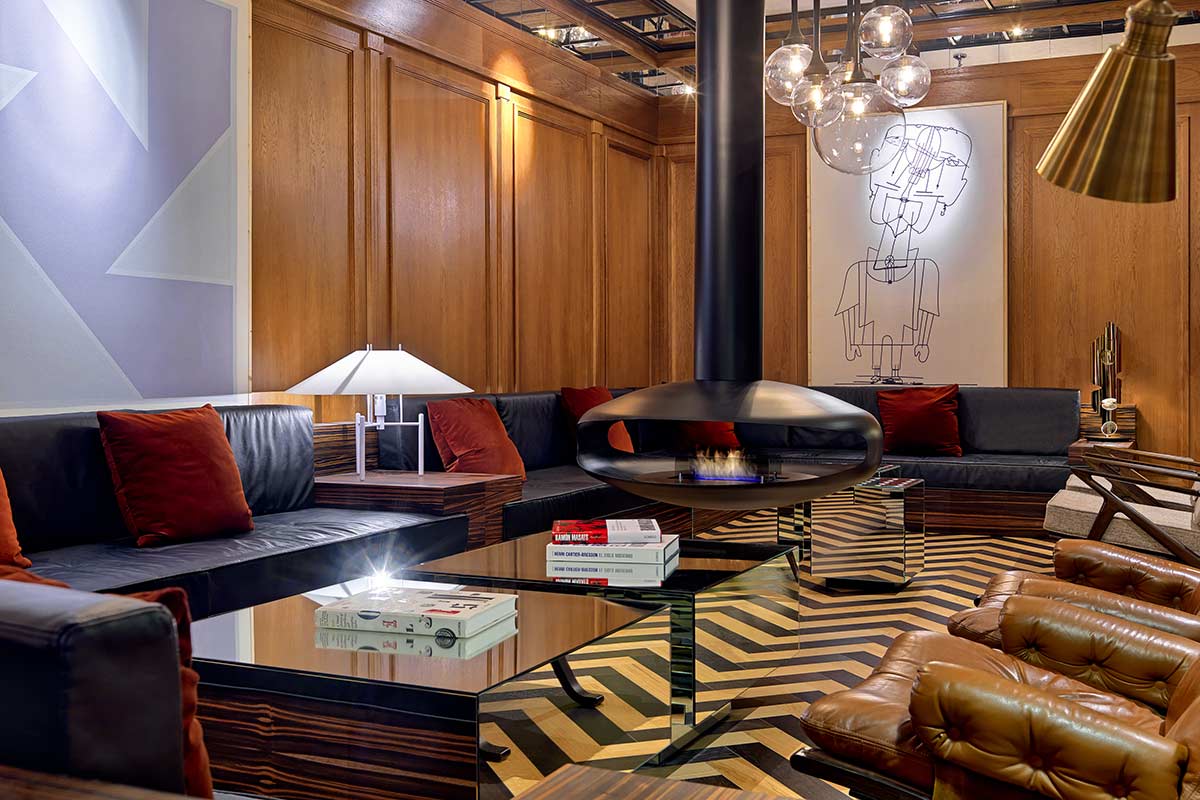 Hotel H10 Metropolitan
→ Read more about Hotel H10 Metropolitan 4*
Hotel Mimosa 4*
What could be better than staying in a Garden Deluxe Terrace Room at Hotel Mimosa with views of the beautiful Casa Milà? The hotel is perfect for architecture lovers with its location in a modernist building situated in the same block as Gaudi's building. After treating yourself with tapas at the calm area of its stylish garden, we doubt that you will feel like leaving the hotel.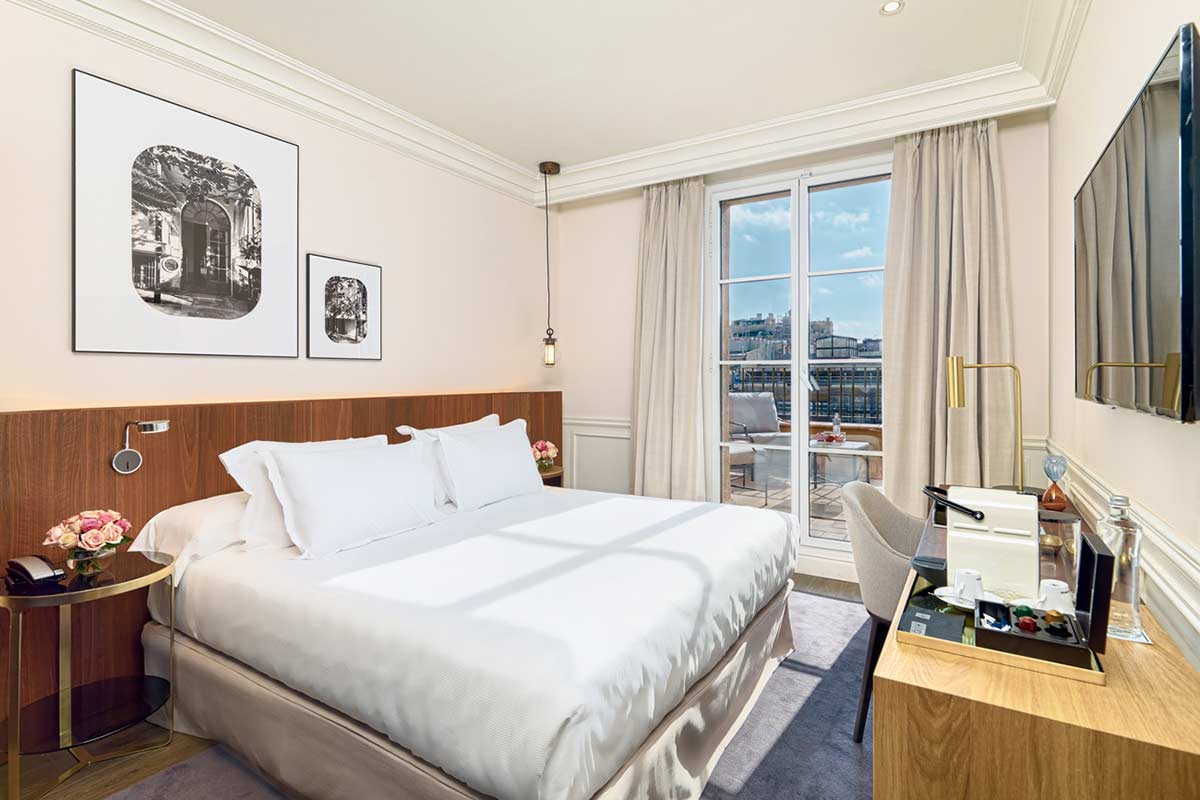 Hotel H10 Mimosa
→ Read more about Hotel H10 Mimosa 4*
Gran Hotel Calderón 5*
Mediterranean gastronomy taken to the next level by two starred Michelin Chefs. First World Class bar "Eleven BCN" on the 11th floor for amazing cocktails. Hundreds of luxurious rooms with panoramic views to Barcelona to choose from. Lots of meeting rooms making it ideal for your corporate summits. Situated in the heart of Eixample district. All of these in an amazing piece of architecture that used to be Barcelona's biggest theater. The rest is up to you to discover.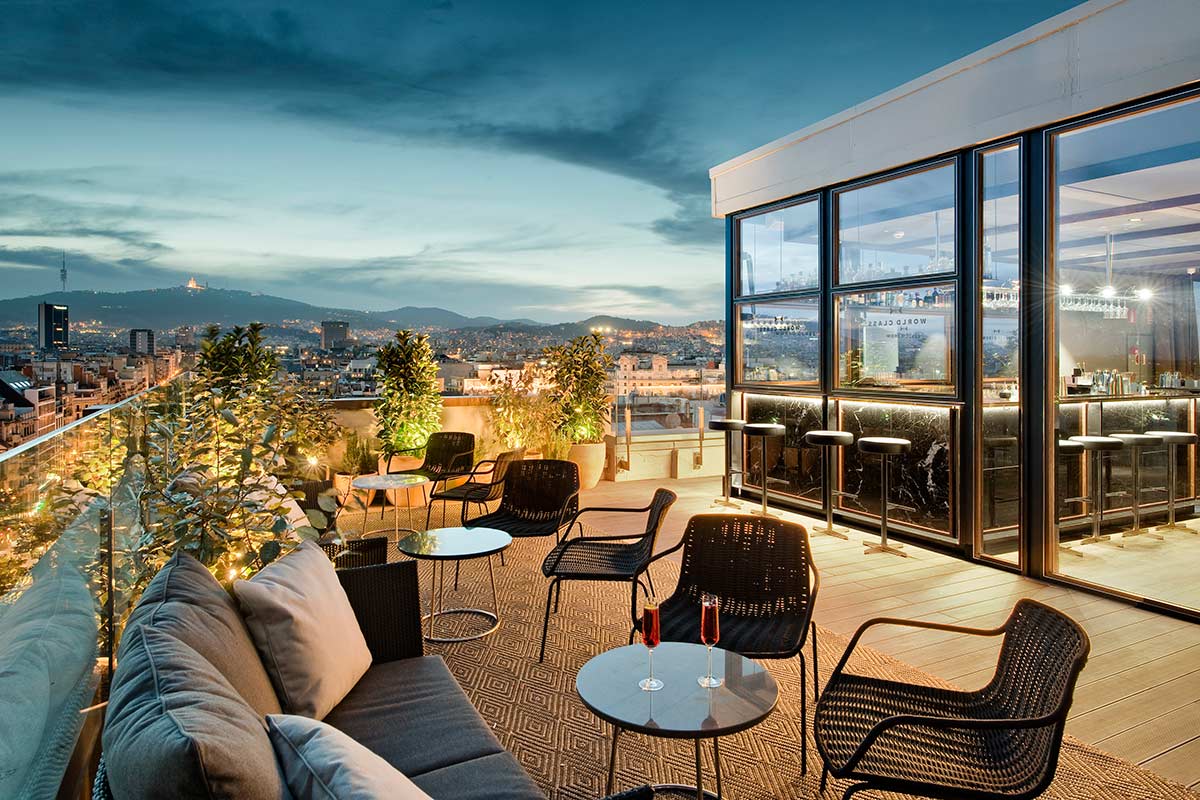 Views of Barcelona and the Tibidabo mountain from the roof top terrace at NH Collection Gran Hotel Calderón 5*
→ Read more about Hotel Calderón 5*
Hotel 1898 4*
Hotel 1898 is your type of hotel if you like travelling back in time and at the same time enjoy contemporary design. We are talking about a hotel with a particular character giving the guests a taste of the Spanish Colonies in Cuba and the Philippines. Every piece of the hotel's decoration has a Colonial flair. Sounds exciting? Wait to try the Mediterranean- exotic fusions of its restaurant or book a colonial suite.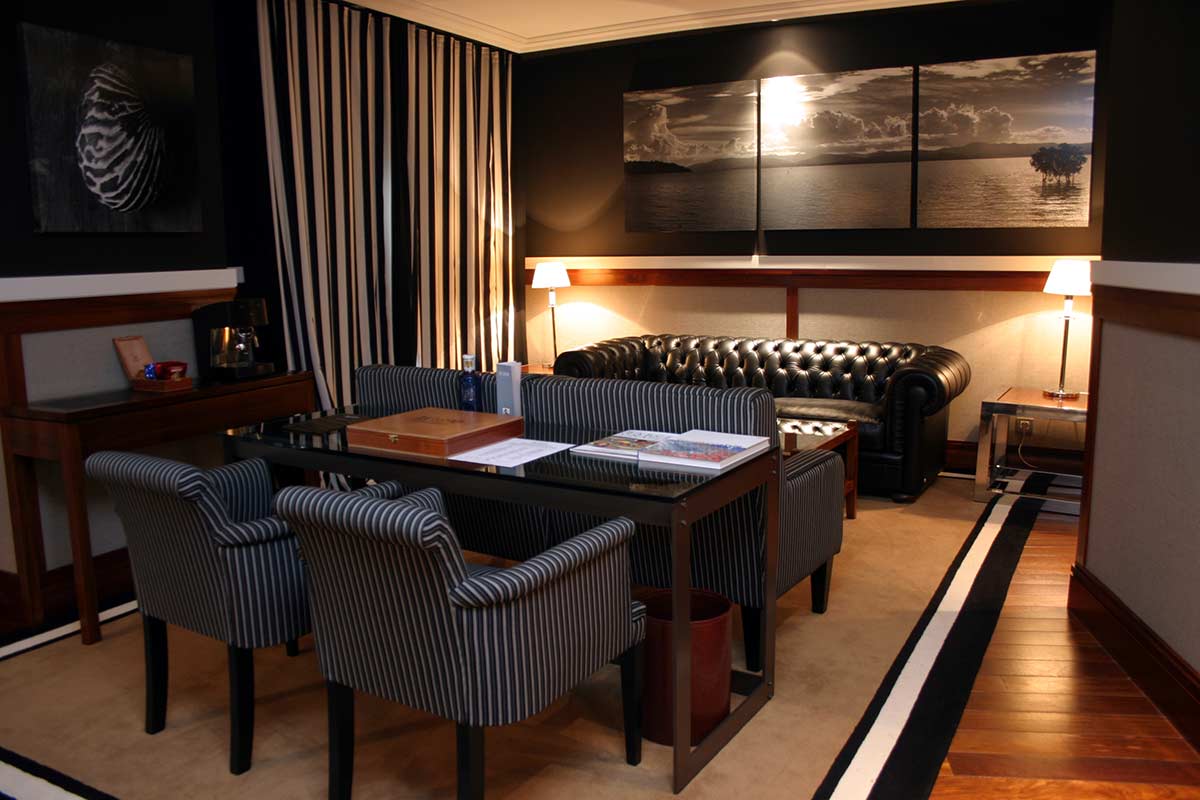 Interior design at the Hotel 1898 with photos from the former colony of Philippines
→ Read more about Hotel NN 1898 4*
Hotel Soho House 4*
Soho House's facilities are expected to go beyond your expectations. While you are having a relaxing stay in Soho House´s gorgeous rooms, with its cozy rooms, you find yourself located in the heart of Barcelona´s Gothic Quarter. The hotel´s gym, club, rooftop pool and cinema will make it hard to choose between spending your day in the city or within the hotel. Let us add one more detail: Soho House´s Spa is among the best in the city.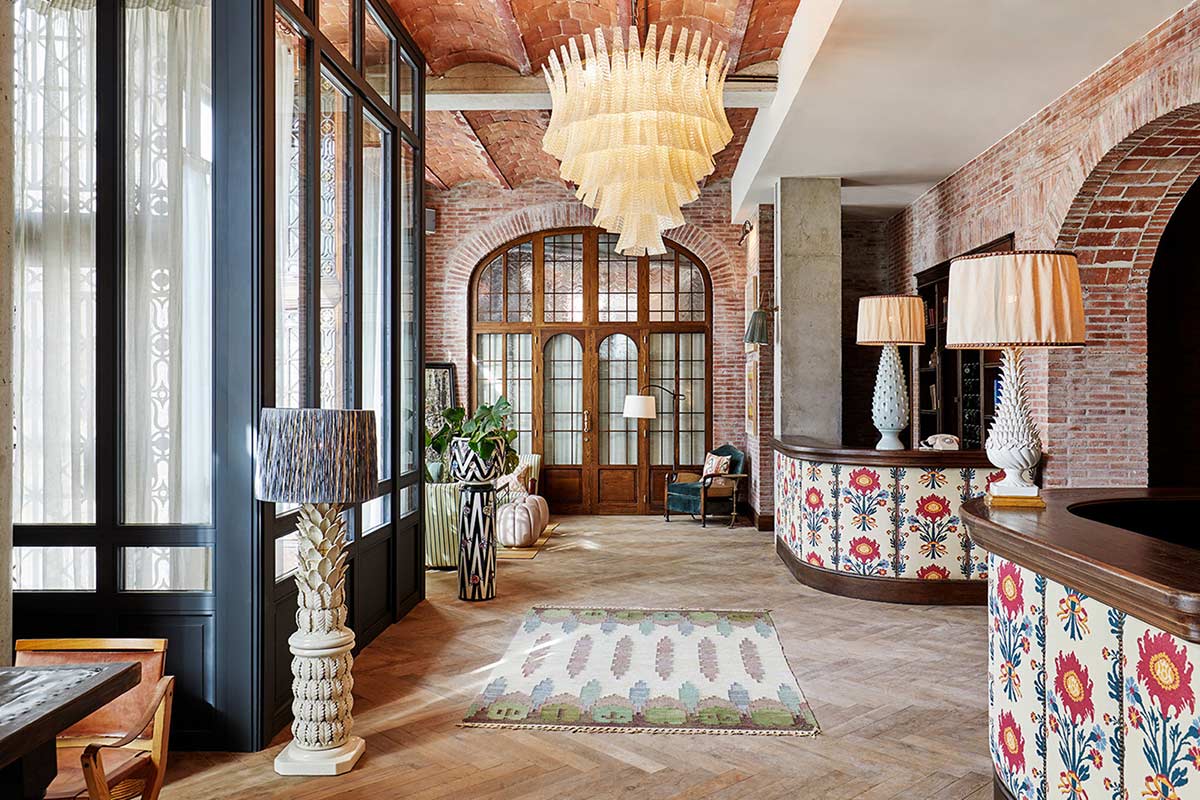 Hotel Soho House in Barcelona
→ Read more about Soho House Hotel in Barcelona
Grand Hotel Central 5*
Grand Hotel Central checks every box of a five star hotel list: spacious rooms and suites of modern design, high-tech meeting rooms, but also an experienced team of chefs specialized in traditional cuisine and an amazing Skybar with views of several of Barcelona's sights like the cathedral and also the sea. The hotel is located within the Old Town and the Gothic Quarter of the city which gives you the atmosphere of this picturesque part of Barcelona.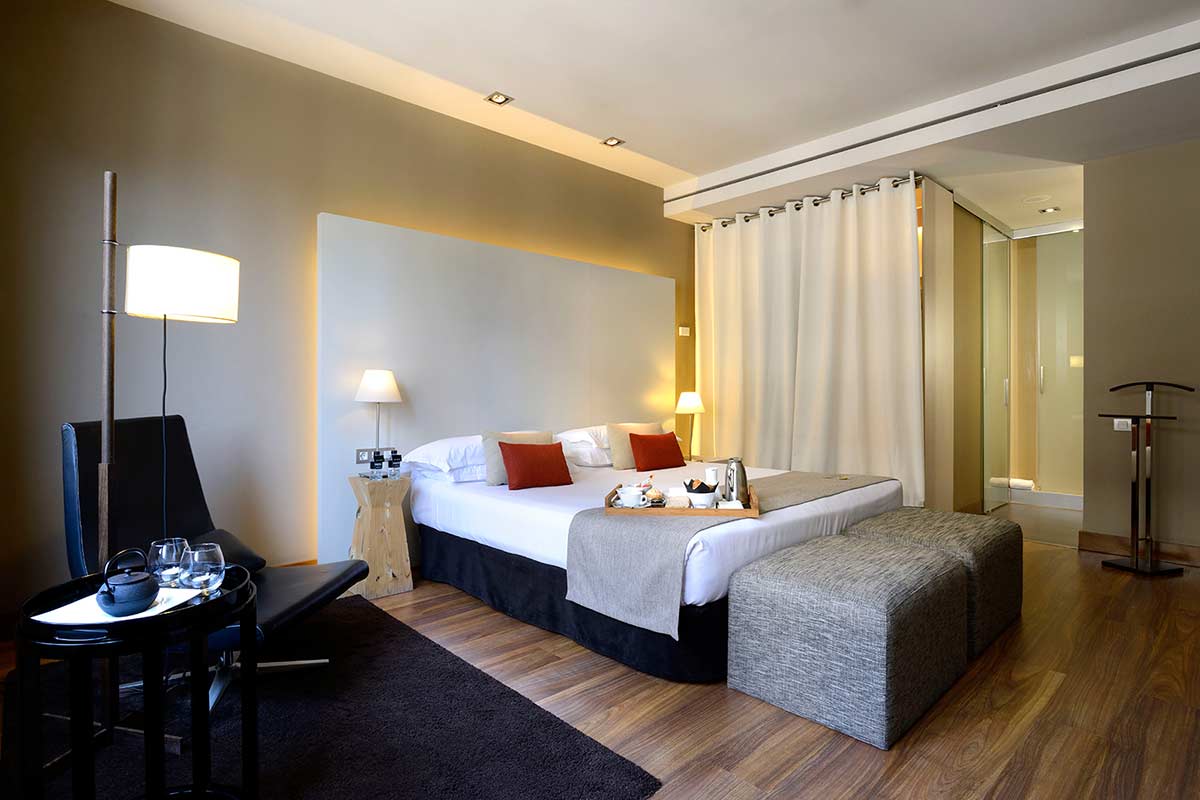 Grand Hotel Central in the Gothic Area of Barcelona
→ Read more about Grand Hotel Central
Hotel H10 Madison 4*
By choosing Hotel Madison for your trip you know you are making a successful choice from the excellent ratings and comments it has acquired through the years. It is an extremely central located hotel just next to the Cathedral of Barcelona of which it provides unique views if you are sat at its privileged rooftop. The excellent interior design that favors personal and luxurious relaxation are combined with every kind of business-related amenities, therefore we can't suggest this hotel as anything less than excellent.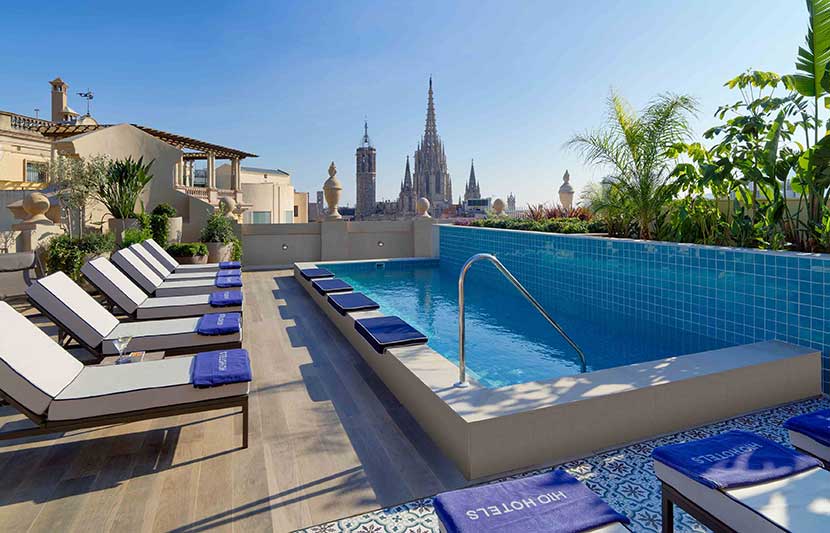 Hotel Barceló Sants
→ Read more about Hotel H10 Madison
Hotel Almanac 5*
Choose between one of the 61 rooms with accents of oak and walnut or, if you prefer, one of the 30 luxurious terrace suites overlooking Gran Via, the old main street in Barcelona´s Eixample Area. Emblematic Passeig de Gracia is only a few meters away with its modern shops, bars and museums. Book your stay close to several of Gaudi´s buildings and mingle with locals at the hotel´s atmospheric restaurant Línia or let yourself be guided by the dedicated team of the panoramic rooftop lounge Azimuth.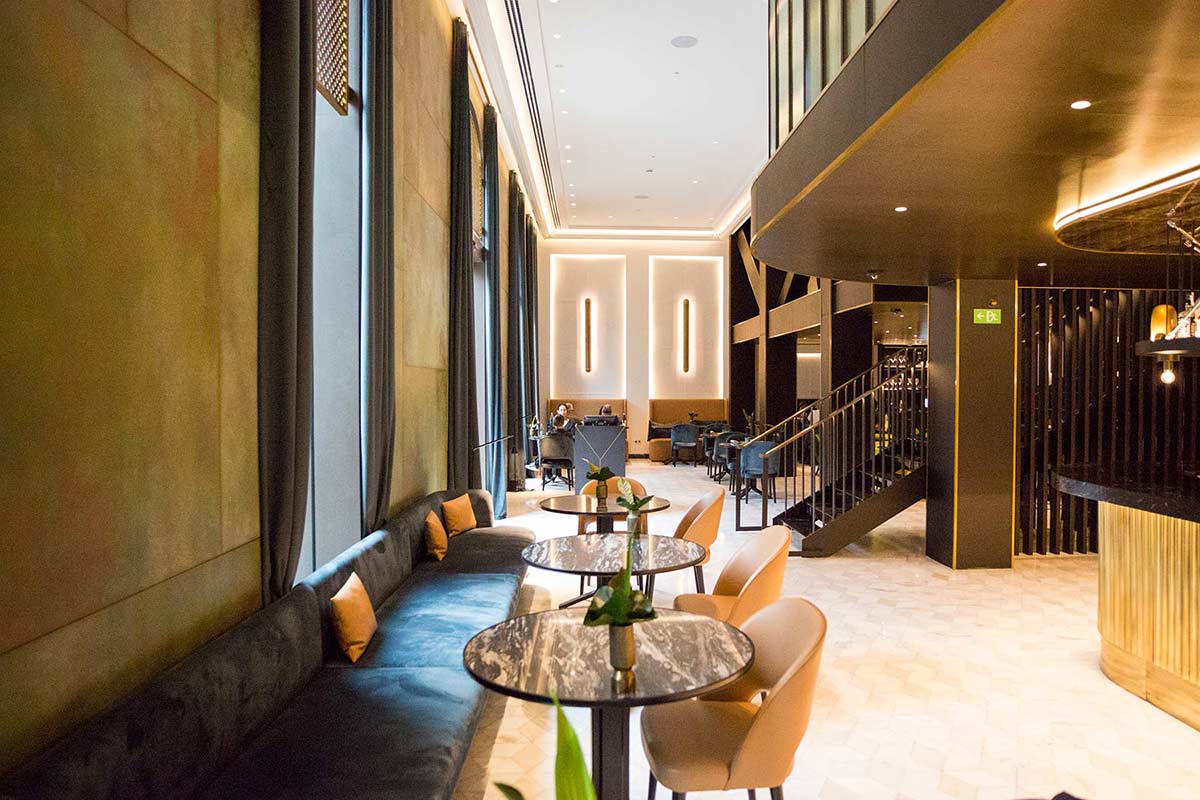 Hotel Almanac in the Eixample Area of Barcelona
→ Read more about Hotel Almanac
Hotel Arts 5*
A stay at the Art Hotel of Barcelona is as close as it comes to heaven. If you´re considering booking a stay in Hotel Arts hotel it might cost you a bit more than other hotel options, but we can assure you that it will be worth it.  It´s location right on the seaside of Barcelona, with magnificent views to the Mediterranean and the city of Barcelona from all its rooms. Not to mention the only spa that offers you the tranquility and relaxation while floating under the clouds. As a guest of Hotel Arts you will have more-than-a-5-star-experience.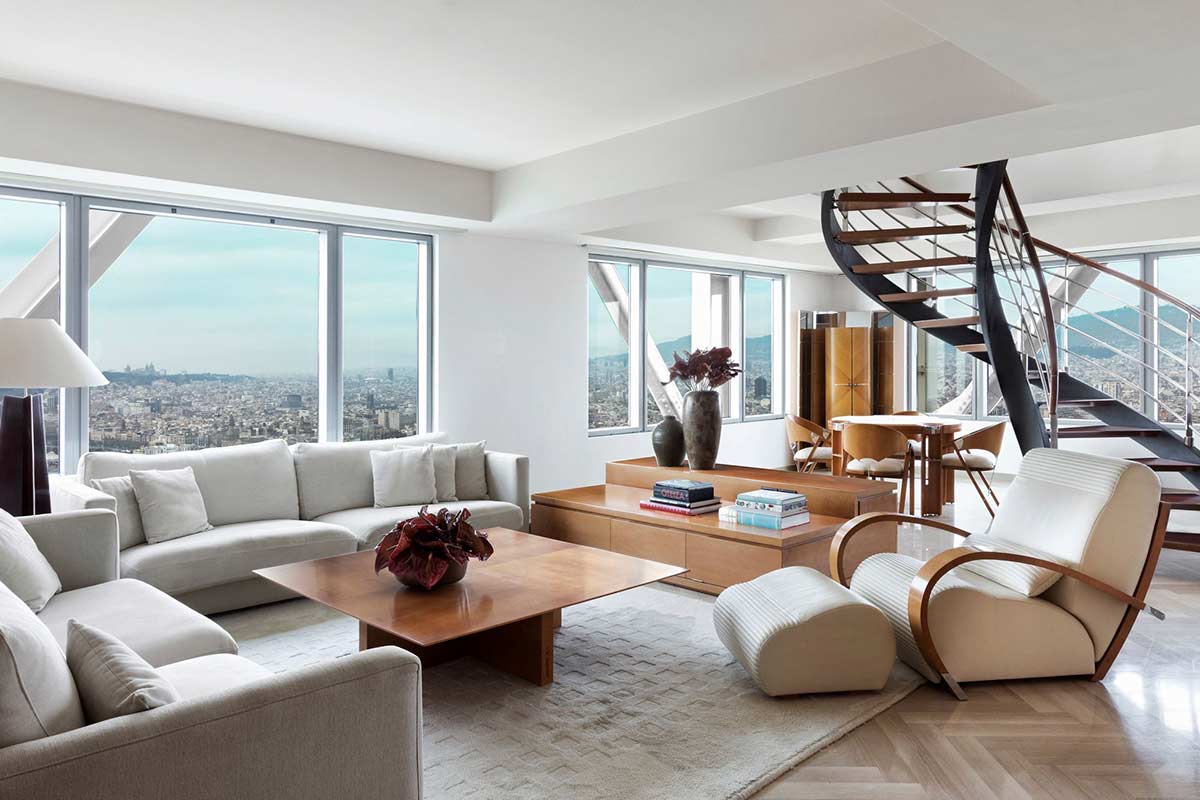 Rooms in the Hotel Arts with fantastic views over Barcelona
→ Read more about Hotel Arts
Hotel Urquinaona Plaza 4*
There are several reasons why Hotel Urquinaona is placed on this list: this luxurious 4-star hotel has everything you can wish for: Hotel Urquinaona has modern interior design and Novecentista details that have been preserved on the late 19th century building that hosts the hotel. The hotel has comfortable rooms, a nice restaurant and a luxurious bar, a roof top terrace and a palm tree-interior garden. On top of this comes high quality service and a modern style of contrasts.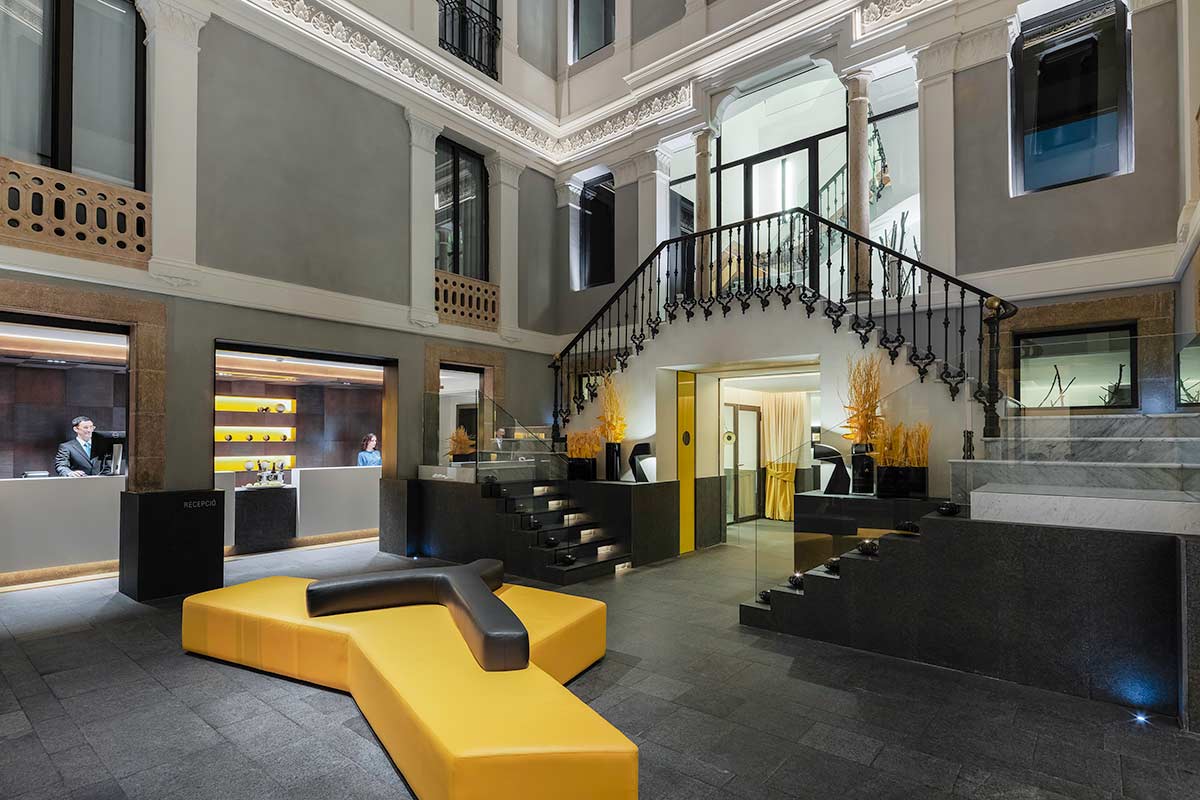 Hotel Urquinaona Plaza in Barcelona
→ Read more about Hotel H10 Urquinaona Plaza
Hotel Alexandra 4*
If you like the mix of history, modernism and avant-garde, this is your hotel. Hotel Alexandra gives you elegant rooms, photographs of the 50´s and 60´s on the walls, mosaic floors and natural oak. Hotel Alexandra also offers excellent Catalan gastronomy, a Finnish sauna, outdoor pool and massage cabins. All this located between Passeig de Gracia and Rambla Catalunya in the heart of the Eixample area where the Catalan bourgeoisie built their houses at the end of the 18th century.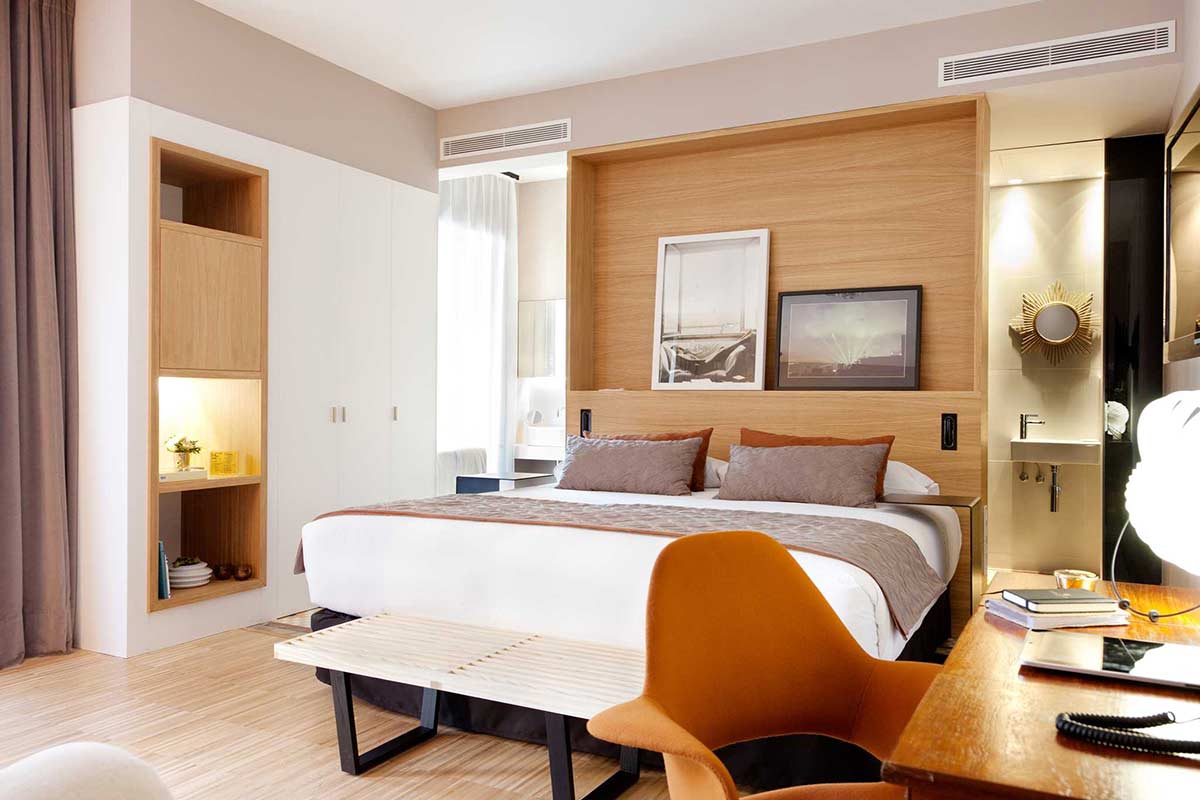 Hotel Alexandra in Barcelona

→ Read more about Hotel Alexandra by Hilton
Hotel W 5*
Hotel W is an option that can only leave its guests surprised, speechless by going beyond any expectation in terms of size, location, amenities, services and comfort. This Hotel is more than just an accommodation suggestion, but more like a way an emblematic building of the city, or simply an incredible way to have holidays in a diffusion of luxury, magnificent views to the Mediterranean, panoramic views of Barcelona and much more. Hotel W offers every kind of amenity in types of room, meeting and business spaces, restaurants, roof top pool and lounge bar and will definitely mark your experience for a lifetime.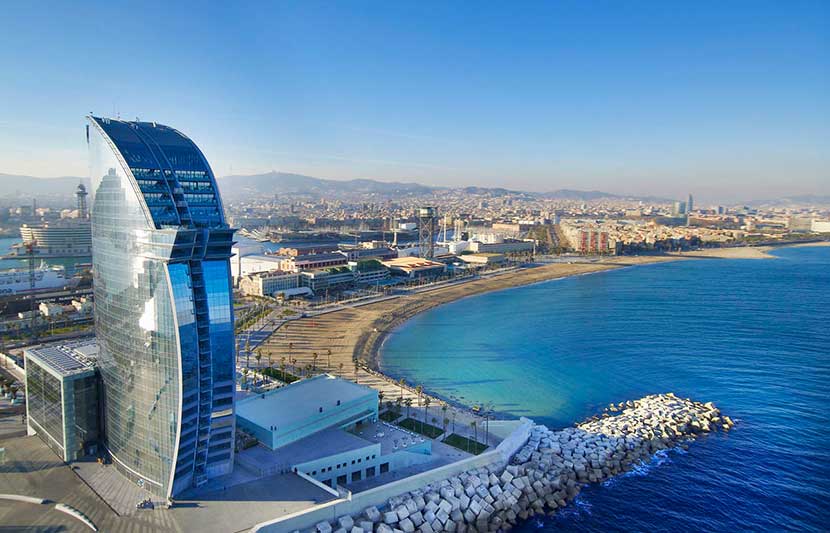 Hotel W Barcelona
→ Read more about Hotel W by Marriott
Hotel Barceló Sants 4*
Barcelo Sant is a found on an impressive modern building, just like the style of its services and amenities. This hotel would be an ideal choice for corporate and business travelers as well as for events and meetings simply as it has to offer a 3,000 m2 in total of fully equipped venues. Its location is very favorable as the guests will find every kind of transportation to the city center at their feet, the train station right under the hotel as well, the airport in 15' min by train and the Palace of Congresses in 500meters.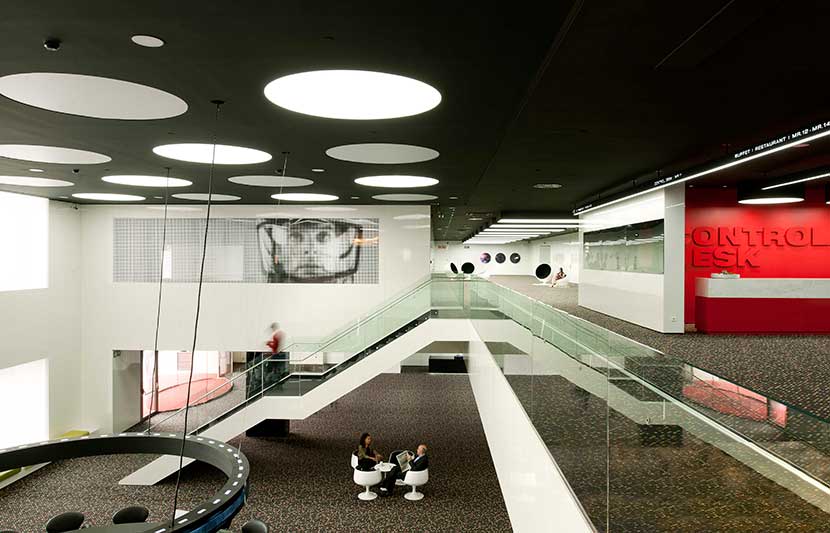 Hotel Barceló Sants
→ Read more about Hotel Barceló Sants
Hotel H10 Marina 4*
Hotel Marina Barcelona is a place for which we can guarantee that has everything to offer to any type of guest in its modern and recently renovated building located in a convenient yet special area, of the Olympic Port just by the seaside. By staying there you will always have to choose between the beach or the relaxing swimming pool in the rooftop, the conference and meeting rooms or the spa services, a close walk to the city center or excellent local fresh food at the hotel's restaurant.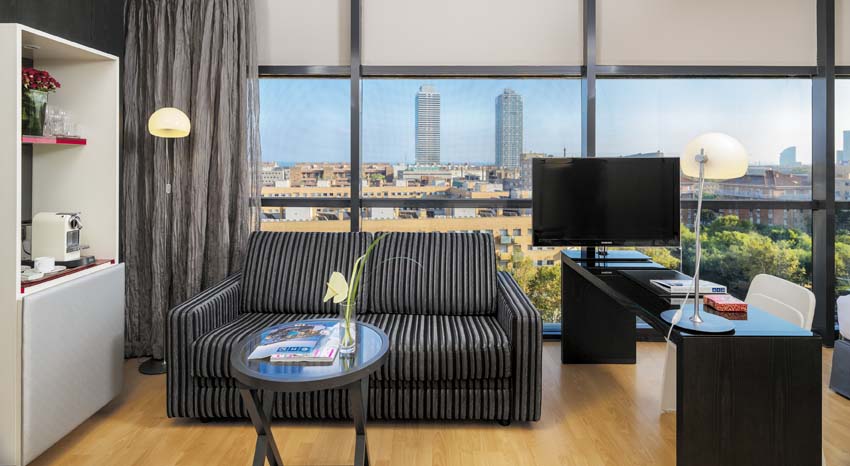 Hotel H10 Marina
→ Read more about Hotel H10 Marina
Hotel Catalonia Born 4*
The Catalonia Born is one of the city's best hotels and has a certificate of Excellence from TripAdvisor. The hotel is located close to the Born neighbourhood, known for its artistic, lively and historic streets that. The hotel gives you comfortable accommodation that has it all and at the same time locate yourself within one of the most stylish and characteristic neighborhoods in Barcelona.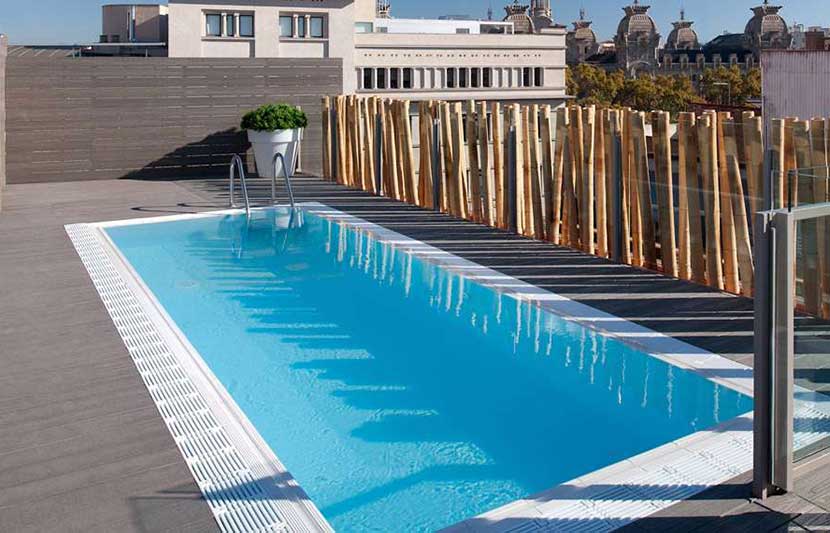 Hotel Catalonia Born
→ Read more about Hotel Catalonia Born