Catalonia and Saint George
The Catalan version Sant Jordi
The myth of Saint George can be found all over Europe and he is the patron Saint of no less than 15 European countries (among them England, Georgia and Greece), but the Catalans have their own version of the legend.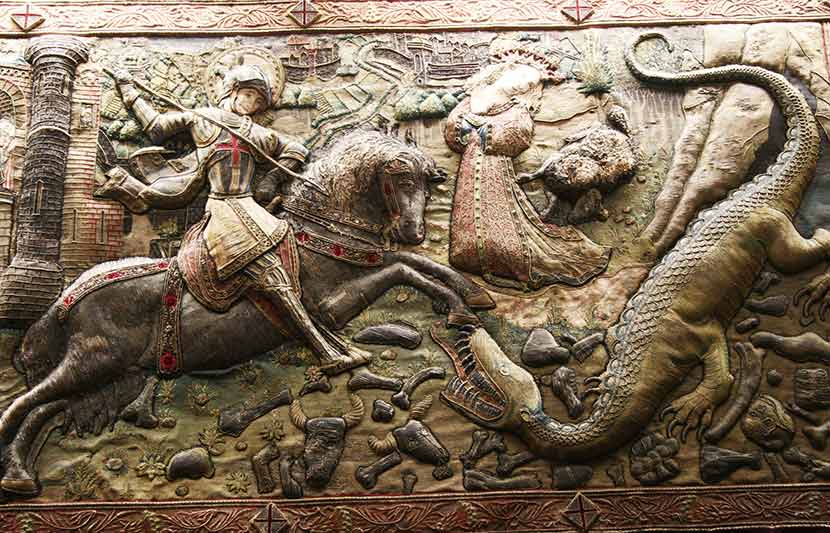 Antoni Sadurní
made this beautiful embroidery in silk, silver and gold of Sant Jordi and the Dragon. You can see the work of art in the Generalitat de Catalunya
If you visit the Barrio Gòtico of Barcelona especially one figure is present everywhere: Sant Jordi. The knight is of course Saint George - in the Catalan version his name is Sant Jordi. You see him on buildings, squares, in paintings, fountains, etc. The knight with his sword is fighting the dragon and saving the princess.
According to myth, a dragon terrified the small village Montblanc in Catalonia south-west of Barcelona. The dragon ate all the animals of Montblanc and when there were no animals left, if started devouring people in the village. The village chose each year a person to satisfy the hunger of the evil dragon. When the name of the young princess came up, Saint George came riding just in time to kill the dragon with his sword.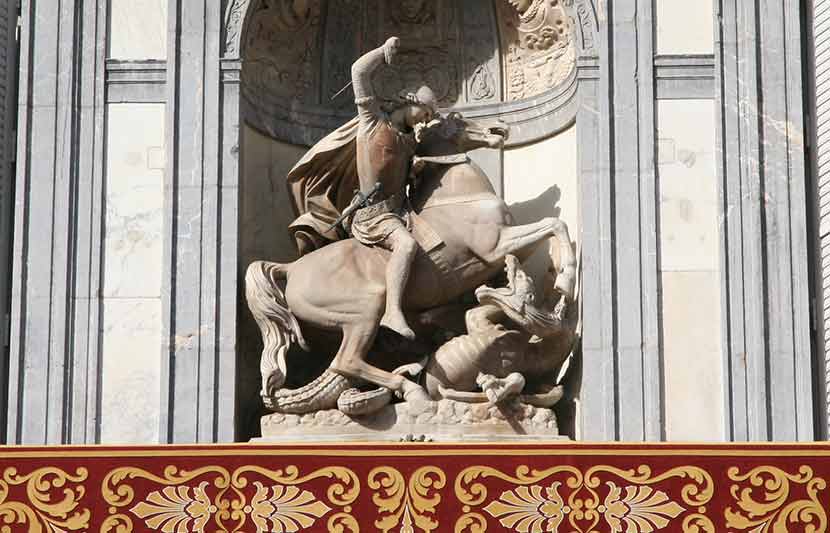 Sant Jordi is here seen on the facade of the Generalitat. The Sculpture was made by
Andreu Aleu
 in 1872
Maybe the reason why the Catalans have been drawn by the story of Saint George is is that has been seen as an allegory Catalonia's history: the evil dragon being a symbol of Madrid/the Central Power and the local knight the saviour of the local village. Both after the War of Spanish Succession and the Spanish Civil War, Barcelona was repressed, first when Filip V conquered Barcelona in 1714 and when Franco's troops gained control of Spain in 1939.