Trouble come in the 15th century
But in the early 1400's difficult times started for Catalonia and the area was annexed to the crown of Madrid. Only in the 1800's Catalonia began to experiencing yet another period of greatness again. This time the result was the so-called renaissance and the birth of modernism - a flowering period of art, culture, language and architecture.The Roman founded Barcelona with a typically Roman city structure with streets, city walls, aqueducts, theaters, etc.

Disasters in the history of Barcelona

In the beginning the the 15th century the king Martin the Human didn't have any children and so, without heirs to the throne, Catalonia became under the control of the Antequera Kings in Madrid. After the Spanish War of Succession, Catalonia's position was further weakened: Catalonia backed the Austrian King in the major conflict and was punished by the winner of the war – the French king, Felipe V.

The Renaissance (La Reneixença) in Barcelona
This situation lasted until the mid-1850'erne when Catalonia went through an industrial revolution that started a prosperous period for the region. The so-called Renaissance (La Reneixença) began. Well into the 20th Century, names such as Antoni Gaudí, Domènech i Montaner, Puig i Cadafalch, Salvador Dalí, Joan Miró and Pablo Picasso owed much to the Renaissance.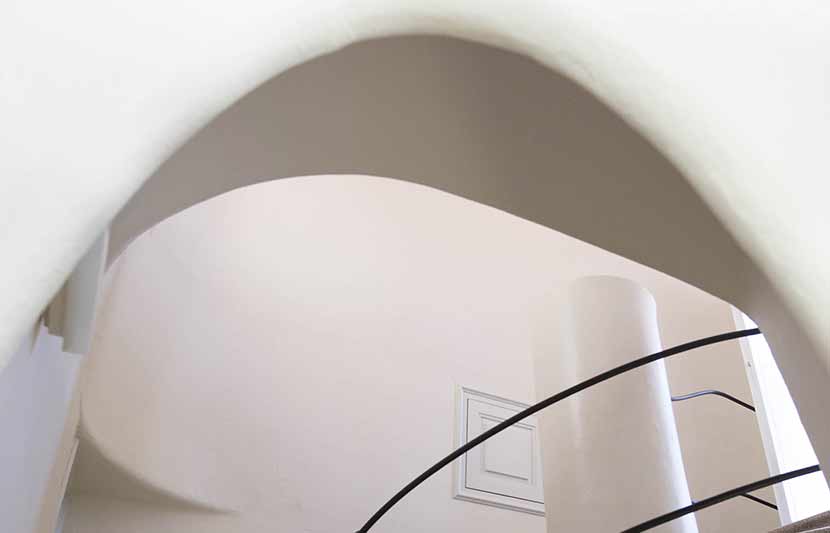 Vaults and staircase in Casa Batlló
The building goes up againt traditional architectural thinking: it is far from the traditional box - here, for the first time, Gaudí creates a radically different architecture, inspired by organic forms. There are virtually no right angles, and organic and geometric shapes such as twsted arcs, paroboles and hyperbolic paraboloids become dominant.
For Gaudí, nature is ultimately a picture of the divine creation - nature is the work of God and thus nature is like "an open book" that every architect should study, as Gaudí put it. Casa Batlló uses glazed tiles and undulating movement in the facade for the first time.