Wine Regions in Spain
The most important Spanish Wine Regions

Barcelona, Spain
Spain har no less than 68 wine regions in total. During the last decades the country has seen a remarkable rise in the quality of the wines produced in all of these categories. Especially in wine regions like Priorat, Montsant, Ribera del Duero and Bierzo, the quality jump has been so high that wines from these regions now compeed with the best wines from France and Italy. Also, the prices on wine have gone up considerably over the last years in Spain, but you still get a lot for the money in Spain.
Denominación de Origen (Denomination of Origin, DOCa) is the name of a wine region or a specific place that is used to describe an agricultural product or foodstuff of the origin, similar to the French Appellation, and is the category more widespread in quality wines related to the geographical characteristics, mode of cultivation, varieties strains and processes.
The Denominación de Origen Calificada (DOCa) is reserved for wines that meet specific criteria of quality and consistency. There are only two DOCa in Spain. In 1991 this name was Rioja and Priorat 2001.
All the wine regions in Spain
D.O. Abona:

D.O. Alicante

D.O. Almansa

D.O. Arabako Txacolina

D.O. Arlanza

D.O. Arribes
D.O. Binissalem (Mallorca/Majorca)
D.O. Bullas

D.O. Calatuyud

D.O. Campo de Borja
D.O. Cariñena

D.O. Cava

D.O. Chacolí

D.O. Cigales
D.O. Conca de Barberá
D.O. Condado de Huelva
D.O. Costers del Segre
D.O. El Hierro
D.O. Gran Canaria

D.O. Jumilla

D.O. La Gomera

D.O. La Mancha

D.O. La Palma

D.O. Lanzarote
D.O. Sierras de Málaga

D.O. Manchuela

D.O. Mentrida
D.O. Mondejar:

D.O. Monterrei
D.O. Montilla Moriles
D.O. Pla de Bages
D.O. Rias Baixas
D.O. Ribeira Sacra
D.O. Ribera del Guadiana
D.O. Ribera del Jucar
D.O. Rueda
D.O. Tacoronte-Acentejo
D.O. Tierra de León
D.O. Tierra del Vino de Zamora

D.O. Ucles
D.O. Utiel-Requena
D.O. Valdeorras
D.O. Valdepeñas
D.O. Valencia
D.O. Valle de Guima

D.O. Valle de la Orotava

D.O. Vinos de Madrid

D.O. Ycoden-Daute-Isora
D.O. Yecla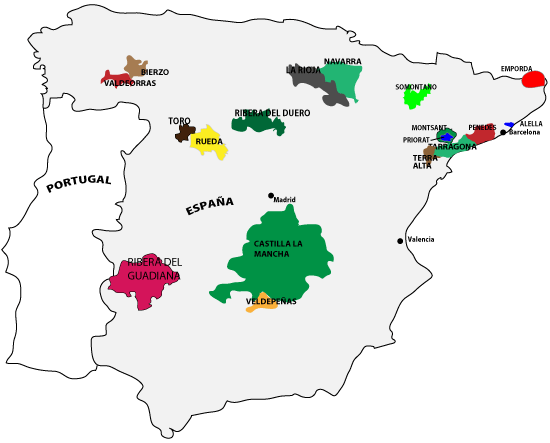 To see a
full-size map of Spanish wine production please click here